We traveled to Italy in the summer of 2006, where we spent two days on the Amalfi Coast (Sorrento & Positano) and two days in Rome.
A night-time view from the balcony in our hotel in Sorrento, Hotel Villa Fiorita, which was located high up in the Sorrento hills.
Looking down at the beach in Positano. We took the bus to Positano and it dropped us off near this point. We walked down the hill to the beach, and on our way down, Esmé fell and broke a bone in her foot!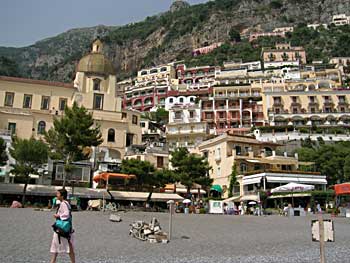 Positano, taken from the beach. Positano is beautiful little town, and we came here specifically because it was featured in the movie "Under The Tuscan Sun". We planned to also visit Amalfi, but Positano was so nice that we spent the whole day there.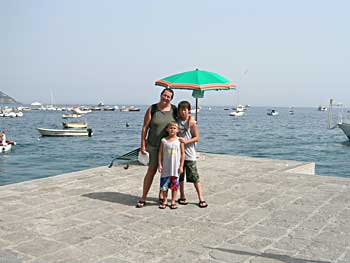 The area where we waited for the ferry back to Sorrento. One scene from "Under The Tuscan Sun" was also filmed here. Initially we didn't know about the ferry that ran between Sorrento, Positano, and Amalfi, but were very happy when we discovered it because it saved Esmé the trouble of walking back up the hill to the bus on a broken foot.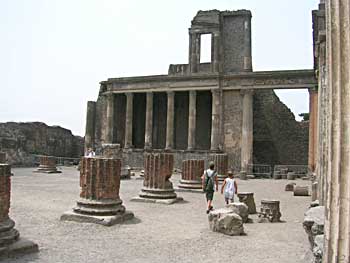 We got off the train at Pompei on our way to Rome. Johnny particularly enjoyed Pompei because he had learnt about it in school. Here he and Michael walk up to the pillars of what apparently used to be the governor's house.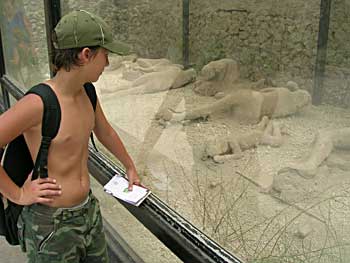 Johnny standing at the glass enclosure containing casts of the bodies of people who died in the volcanic ash that covered Pompei after the eruption of Mt. Vesuvius.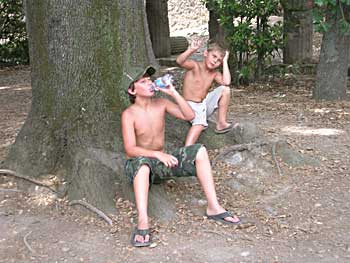 As everything else in Italy, Pompei was incredibly hot! If you're not in the habit of drinking lots of water, you learn to do so very quickly in Italy in the summer.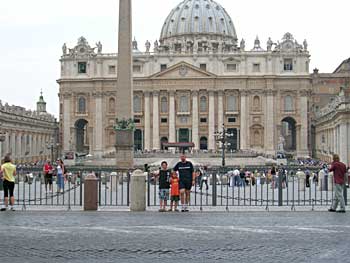 You cannot visit Rome without also visiting the Vatican. Here we stand on the edge of St. Peter's Square in front of St. Peter's Cathedral.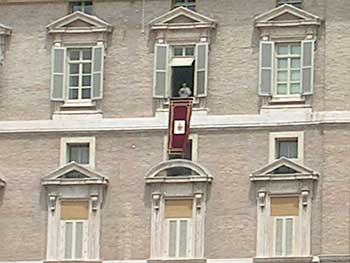 The Pope delivering a message to the crowd in St Peter's Square. We didn't know that the day of our visit, June 29, was also St. Peter's Day. So we were very pleasantly surprised when the Pope appeared and delivered a message.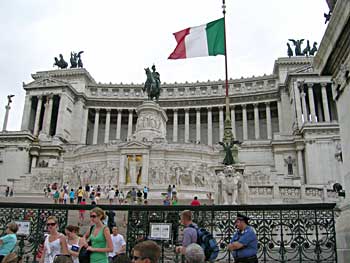 Our second stop in Rome was a visit to Vittoriano Monument and the Tomb of the Unknown Soldier. This monument is a magnificent building!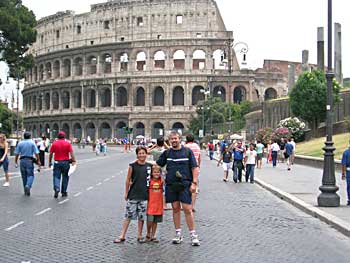 Our third stop in Rome was a visit to the Colliseum, which was used by the Romans for entertainment (gladiator fights, mock naval battles, and the persecution of Christians). Here we are on our way to it...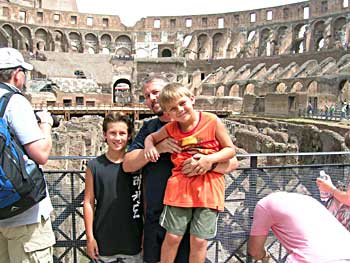 It took a while standing in line to get inside, but once inside, it was very interesting. The floor level of the original arena was on the same level as we are, i.e. it covered the dungeons in the background. The Romans used to keep the wild animals used in the Gladiator fights in the dungeons.