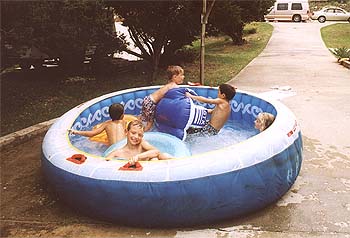 Some of the kids in the inflatable pool, which unfortunately didn't see the end of the day.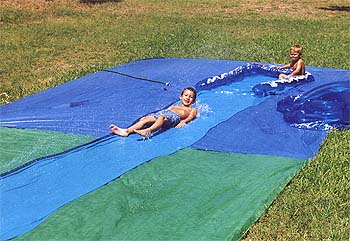 Johnny on the Slip 'n Slide. He was on this thing the whole day, and most of the next day.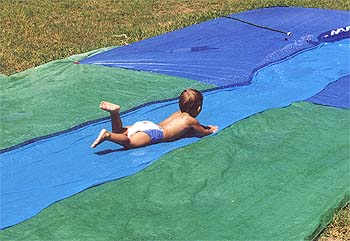 Nothing could keep Michael off the slide either...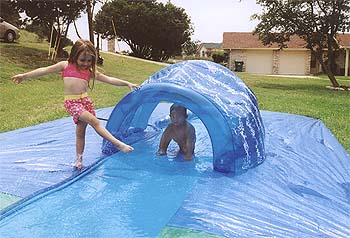 This was when the "cave" part was still on the Slip 'n Slide. Here's Michael in the cave and Caroline wondering if she should go too.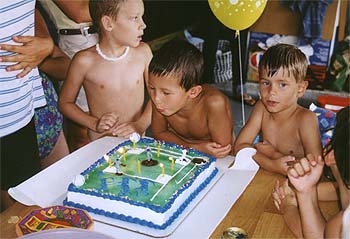 Johnny's brithday cake was a baseball field this year. He was thrilled with it!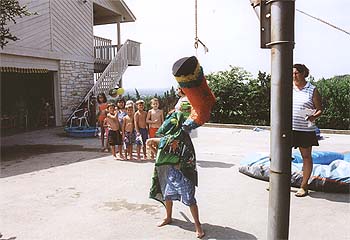 Johnny trying to break the piñata (pin-jada), which is basically a paper mache object filled with candy. It is then suspended with a rope, and the kids get a stick to hit it, the object being to break it and have all the candy fall out. We covered the kids' heads for their first attempts...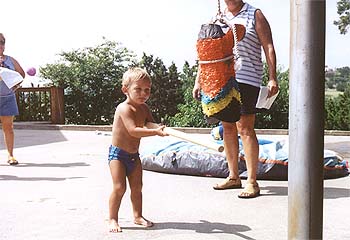 Michael attempting to break the piñata. Each kid gets a party bag beforehand, and when the piñata breaks, it is major scramble for the candy.
Johnny opening his gifts. He got some cool gifts this year!
I only realized the next day that I didn't take any photos during Esmé's party...