2006 Visit To South Africa
We traveled to South Africa during July 2006 to visit our family. During this trip we visited the Kruger Park game reserve, Esm&eacute's parents' farm in Namibia, Cape Town (a brief visit), and my family in the Eastern Cape.
Kruger Park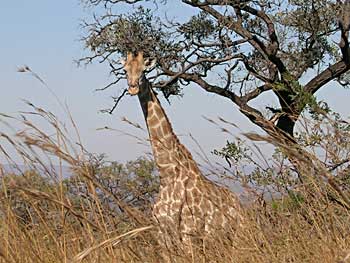 About 5 minutes after entering Numbi gate in the Kruger National Park, we saw this giraffe. The visit started off well!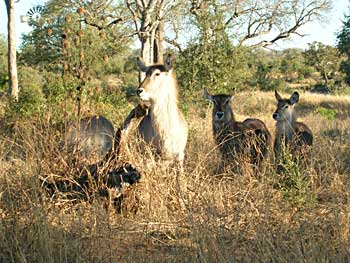 These waterbuck stood right next to the road and pretended not to even see us. I'm told it's rare to see them this close.
This elephant was eating away merrily and couldn't care less that we were watching it from up close.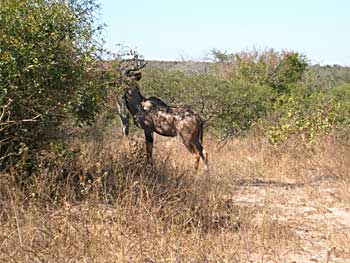 This beautiful kudu bull was one of several kudus that we saw.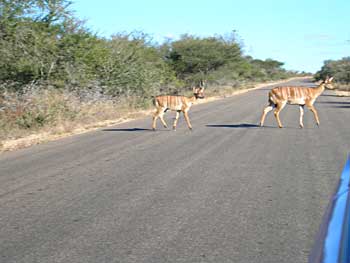 We also saw nyalas. We haven't seen many of them on previous trips to the Kruger Park.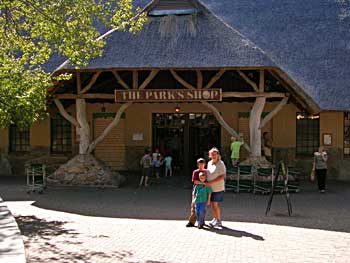 The Park Shop, the store in Skukuza camp. This store was our first opportunity to shop in South Africa, and we were shocked at how expensive everything was.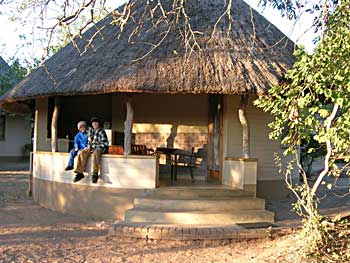 The rondavel we stayed in in Skukuza. (A rondavel is a round building with a grass roof.)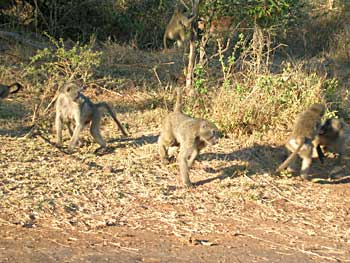 On our last morning in the Kruger Park we found a troup of baboons next to a river. They were very playful and lot of fun to watch.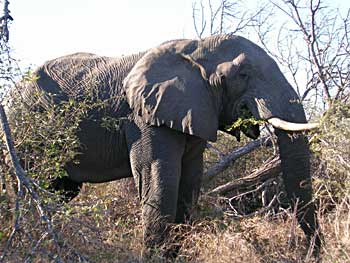 Contrary to the other elephants we found, this one was somewhat agitated by our presence.
---
Klein Menasse, Namibia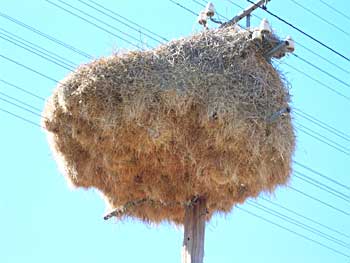 Along the road from Upington to Namibia are hundreds of these large community birds' nest on telephone poles. Each of these nests can contain hundreds of birds. The birds enter the nests from the bottom and this design also prevents snakes from entering the nests. Compared to some of the nests we saw, this one is on the small-medium side.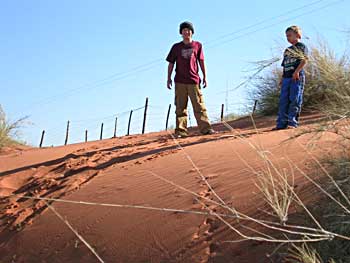 Esmé's parents' farm is located in southeastern Namibia, which is part of the Kalahari desert. Here Johnny & Michael are playing on one of the dunes along the road.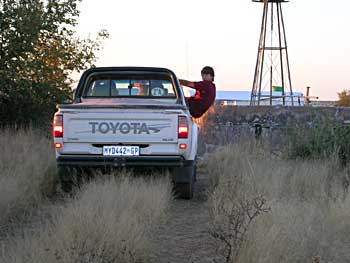 When we entered the farm, it was the kids' job to open gates. Here's Johnny hanging out the window of Oupa's bakkie (truck).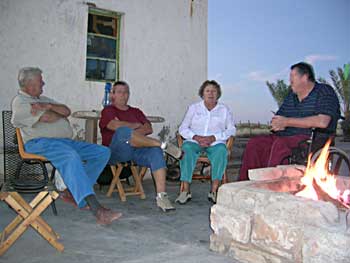 We spent many evenings sitting outside at the fire and having a braai (barbeque). These were some special moments that we remember well.
The boys loved all the target-shooting we did. Here's Johnny taking a shot. He also learnt how to drive the truck he's shooting from. Michael is the spotter with the binoculars.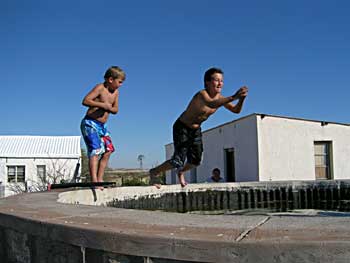 One of the challenges set for the boys during a mini "Fear Factor" was to swim from one side of this little dam to the other. That sounds like nothing, but remember, it was winter!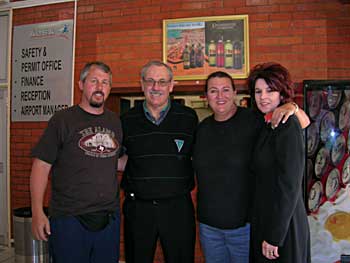 Back at the Upington airport on our way to Cape Town, we met with Leon & Rika Landsberg, old friends when we lived in Johannesburg 20 years ago.
---
Cape Town
We only spent one night in Cape Town, and were very happy when we could see my step-grandmother, Essie Honiball, at the Cape Town airport for a quick visit.
We also met with several of Esmé's cousins at the Sports Cafe in Cape Town's Waterfront. We had lots of fun here.
---
Eastern Cape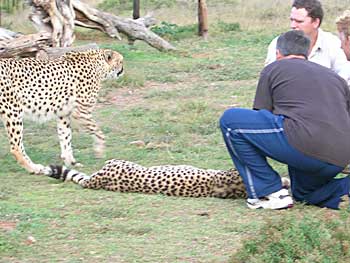 On our way to Steytlerville, we stopped off at a curio store where the owners also have a cheetah breeding program.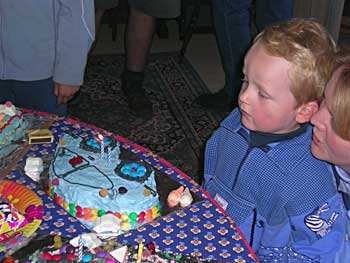 Since this was the first time that all the grandchildren were together and many birthdays have gone by, Grandma decided to have a big cake party. Each child got their own cake to decorate. Here's Christiaan with his...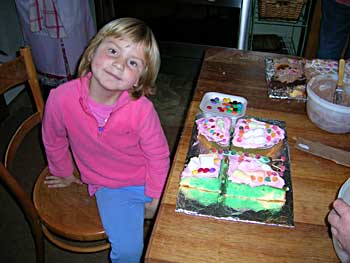 ... And Inge with hers...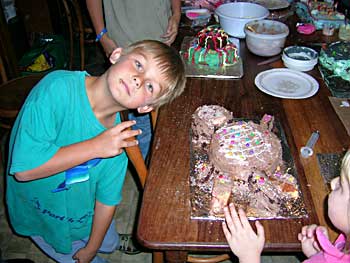 ... And Michael with his.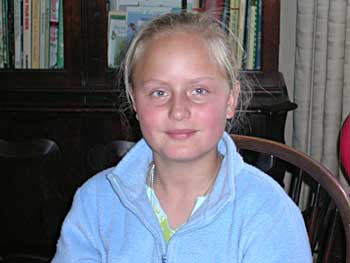 Leila... she also had a cake... you just can't see it in the photo.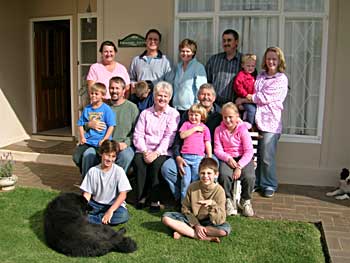 The first family photo taken in 5 years. There have been several additions to the family since the last one.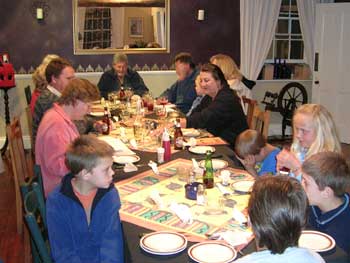 We all went for a wonderful meal at Weavers restaurant in Steytlerville.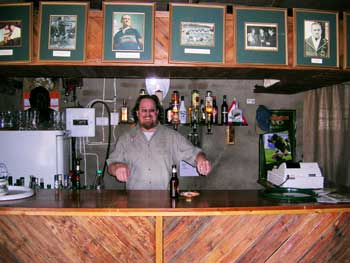 On our way to Graaff-Reinet we stopped off at Noorspoort to have coffee with old school friend, Danie Craven. Here he is behind the bar "Dok se Hok", honoring his late grandfather, the Springbok rugby legend, Dr. Danie Craven.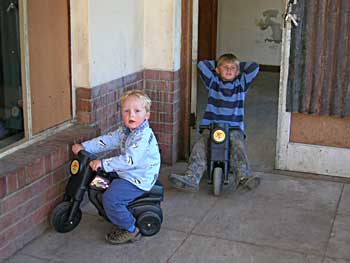 Michael and cousin Christiaan racing around on their scooters!
This wildebeest was shot during our visit to Kleine Weide, cousin Christiaan's parents' farm. Michael & Johnny were thrilled with this experience!
---
Johannesburg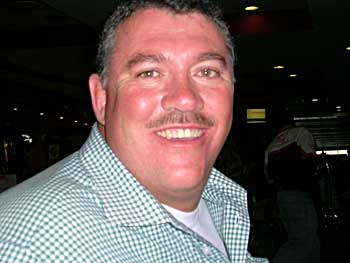 Our last stop before our flight back to the US was Johannesburg airport. Esmé's brother, Len came to see us at the airport.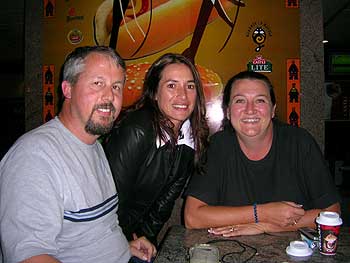 Our good friend, Charmain Gray also came to see us at the airport.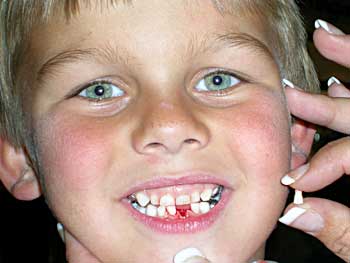 Michael lost his first baby tooth at Johannesburg airport while we were sitting at the gate waiting to board our flight back to the US. A wonderful trip had a very exciting end for him. He couldn't wait to get back to the US to put his tooth in his shoe for the tooth fairy!