We spent Chrsitmas 2000 in South Africa. We stayed in Port Elizabeth the entire time, with all our family and friends joining us in Port Elizabeth. The Moorhouses, good friends from when we lived in Port Elizabeth, now living in the UK, joined us as well.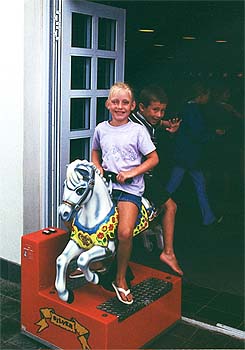 Johnny & Caily Jonck at the Boardwalk in Port Elizabeth. Johnny and Caily were great friends when we lived in P.E.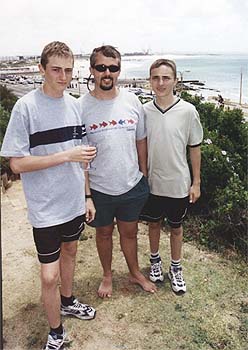 Christopher Moorhouse, me, and Adrian Moorhouse. I last saw them when we left South Africa in '96, and these guys were just little kids who used to play cricket with the neighbor's kids on the front lawn. Now they're all grown up. Christopher is finishing school soon.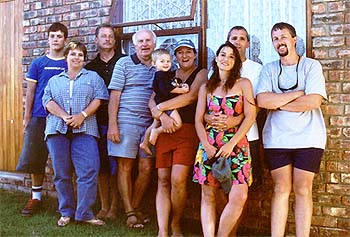 All the people at a braai we had at Dennis Hill's house. The three people on the left are Dennis's daughter, with her husband and son. Then there's Dennis, Esmé & Michael, Stephen & Charmain Gray, and me. Esmé used to work with Dennis & Stephen at Nissan.
Len (Esmé's brother) arranged for Johnny to go for a helicopter flip along the Port Elizabeth beach front. This was certainly one of the highlights of Johnny's holiday!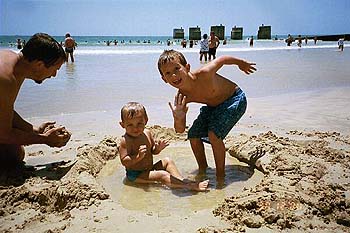 Johnny, Michael, and me on the beach. We had plenty of glorious sunshine days.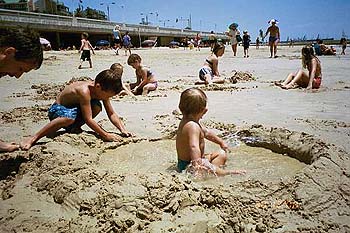 Another shot of the same thing, just a different angle. Our hotel was part of the buildings above the bridge in the background.
The Moorhouses (Karin, Kevin, Christopher, and Adrian) with Johnny and me on the balcony of our hotel room. The Moorhouses now live in Princes Risborough, a small English village about 30 miles outside London.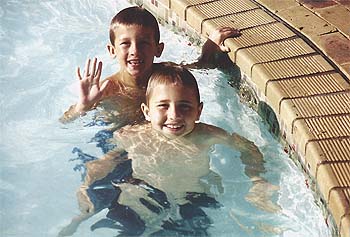 Johnny & Kevin Moorhouse (Jr) in the hotel pool. They also used to be great friends when we all lived in Ben Kamma, Port Elizabeth. They last saw each other in '96, and became good buddies on this vacation again.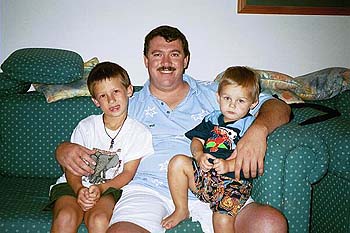 Johnny & Michael with Len, Esmé's brother.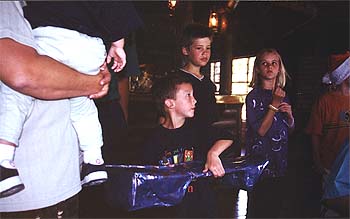 Johnny at the Christmas party where Santa finally showed up with his long-awaited skateboard.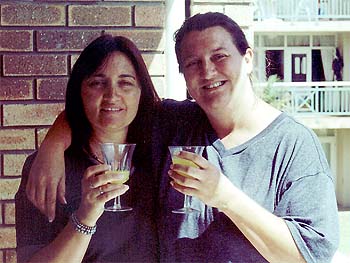 Karin & Esmé at the champagne breakfast we had on New Year's morning.
Kevin, Michael, Esmé & me at the same champagne breakfast.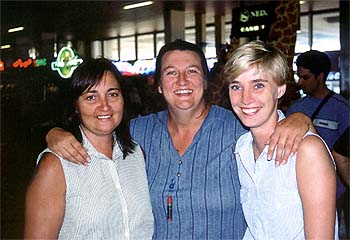 Karin, Esmé & Natasha Jonck - three friends now living worlds apart.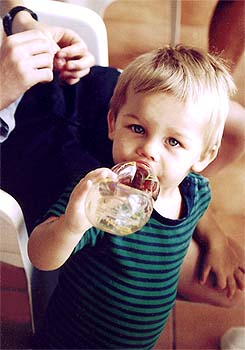 Michael and the one thing that makes him happy... his bottle. (On the other hand, he throws that bottle down very quickly if he can go swimming!)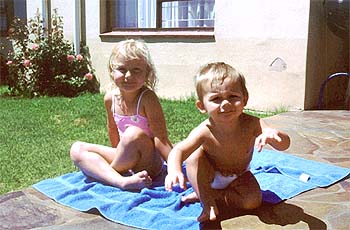 Michael and cousin Leila. They became big friends this trip. Leila has a baby sister on the way!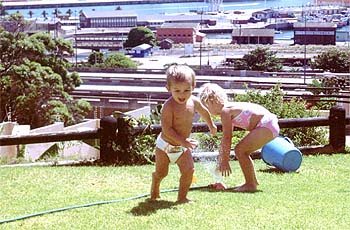 Michael and Leila playing in the lawn sprinkler at grandpa & grandma's townhouse.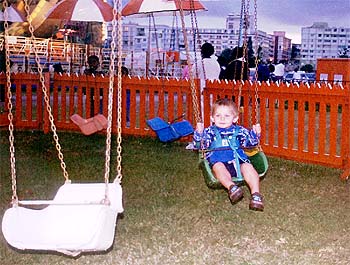 Michael in the swings at the King's Beach Playland. He screamed his little head off when we took him out after the third ride.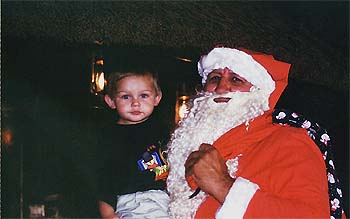 Michael with Santa (or Father Christmas as the South Africans say).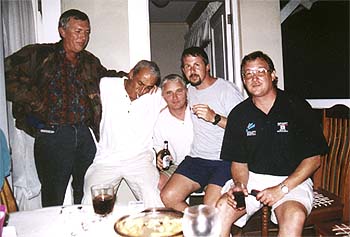 Some of the old OB guys (TV outside broadacasts) together. From the left is Les, Gary, Kevin, me, and Cobus. Having a few drinks together usually brings back a lot of fun memories!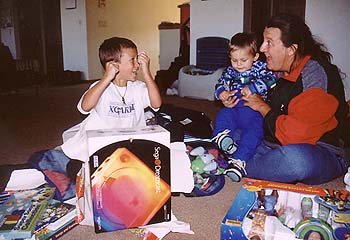 Santa Claus visited our house in Texas while we were away in South Africa. So, to Johnny's delight, we had a second Christmas party when we got back.