A South African Family in the US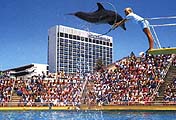 In 1996 we lived happily in Port Elizabeth, South Africa. Life in South Africa had its uncertainties, but we had no specific plans to go anywhere else.
Then came the opportunity of a lifetime...
We won in the US green card lottery! We could go live and work in the United States!
It sounded very exciting, so we packed up and moved to the United States. This is the story of how we became South African immigrants in the US.
Immigration can be rough on everyone involved, so our site serves two purposes:
Latest news and Photos let family & friends know what's currently going on in our lives.
The story of Our Immigration tells you what we went through to get here, and more importantly, it tells would-be immigrants what they may be in for.

We have been here for several years now. We had our ups and downs, but overall this has been an incredible adventure that brought us many opportunities. We've seen places and experienced things that otherwise would have remained a dream...
If you have any questions, feel free to .
I added the Twitter "Tweets" box above on May 6, 2009