Diary - Our First Seven Days In The US
For some reason I decided to start keeping a diary the day we entered the USA. Unfortunately this idea lasted only for 7 days. I say "unfortunately" because I only realized some months later, after reading those seven days again, what an incredible period in our lives that had been, and how nice it would've been had I recorded more of those initial days. Anyway, here they are...
Thursday, September 5, 1996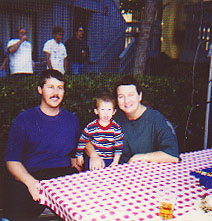 This picture was taken at the "end of summer"-BBQ about 1 hour after arriving at the Residence Inn in Foster City.
Finally, after months of preparations, we fly out of Amsterdam for San Francisco. We flew over Iceland and Greenland, which looked like a desert of snow. We touched down at SFO (San Francisco International Airport) at exactly 13:30. Met Jerry & Molly on the plane. They gave lots of hints on what to do, and what not. Passed through Immigration and Passport Control without any hassles. Called our hotel and waited outside the airport building for the hotel shuttle bus. Our first sight of beautiful, big-engined American cars! Saw two long white Limosines. All very impressive! Arrived at the hotel, to walk straight into an end-of-summer American BBQ. It helped to make us feel more at home. The hotel room is very comfortable and spacious. We settled ourselves in, watched a bit of TV (12 channels - we were impressed by 12 channels back then), and went to bed early, hoping to get rid of the effects of jet-lag.
Friday, September 6, 1996
We had two objectives for today, (1) to collect the luggage from the airport that we sent by freight ahead of us, and (2) to apply for our social security numbers. We decided to go for our luggage first. What a battle it was to find it. First, the cargo division was not at the main passenger terminals as we expected, and since we didn't have any transport of our own, we had to beg a ride on an airport employee bus which happened to go past the cargo division. Then, neither KLM nor NorthWest Airlines (KLM's domestic partner) had our cargo (we thought KLM would have it since we flew KLM to the US). Our "waybill" number also didn't appear on their computer systems. It seemed our luggage was gone and we were ready to give up and go back to South Africa. Luckily we met a very helpful NorthWest employee (who was very interested in South Africa) and he tracked our luggage down to American Airlines. At American Airlines we met a very friendly Samoan, Warren, who located our luggage. Warren also drove us to US Customs, and finally our luggage was released. By this time it was too late to go to the social security offices, and we returned to our hotel. While waiting at American Airlines to be picked up by the hotel shuttle, we had our first taste of american hamburgers.
Saturday, September 7, 1996
We rented a car today because we couldn't keep on depending on the hotel courtesy van for transport. It is a red Chrysler Neon. It also meant my first experience with driving a left hand drive vehicle on the right hand side of the road. It felt very weird, but all went OK. We got quite lost on our way back to the Residence Inn, and had to stop at a gas station to look at a map to find our way back. To avoid getting lost again, we'll go out and buy a decent street map of San Mateo / Santa Clara counties tomorrow.
Sunday, September 8, 1996
We set off for the Hillsdale Mall in San Mateo, took the wrong exit off Hwy 92, and ended up at a K-Mart. We decided to go in and have a look anyway. What a surprize it was to see how cheap household goods are in the US. We set off for Hillsdale again, and found it. Macy's was quite something - a lot like Edgars (in SA), but bigger, with fantastic goods, and a lot cheaper. We explored the rest of the mall and the Disney store and the toy store were incredible. We went to lunch at McDonalds. Johnny took to McDonalds burgers like a fish to water. There we met Jeff (Jones), who is also into computers, and who is very keen to help us. He offered us the use of his computer and internet connection, and invited us to come to their place for a swim and a visit. I called Gabe (Gross) for the first time, and we agreed to meet later in the week. (Gabe lives in the SF Bay Area, and I got a lot of info from him while we were still in SA.)
Monday, September 9, 1996
First up today was our applications for Social Security numbers. We found the office easily, and the application went quikly. We were told our Social Security cards would take 10 days to arrive by mail. Apartment hunting was next. We decided to travel down El Camino Real all the way to San José to get a better idea of all our options. It was a very long way, and the further we went, the hotter it became. Finally, as we left San José, we found a McDonalds and stopped for a meal. For kiddies' entertainment they have a huge plastic tunnel maze. We hadn't seen anything like this in South Africa before, and Johnny had great fun. We headed back to San Mateo on the US101, which was a lot faster than El Camino Real. We met with Gabe & family in the evening - very nice people. He brought me a bottle of wine and two Visual Basic magazines. The kids had a swim in the hotel pool. I think everyone enjoyed the evening. It was certainly very nice to finally meet the guy who helped me so much with our preparations for moving to the US.
Tuesday, September 10, 1996
Our apartment hunting is going very slow. I called many real estate management companies, but had no luck. No vacancies. Esmé then went to Cort furniture rentals and found an advertisement for two apartments. We liked the one very much, and were able to pay the rent, but they wouldn't give it to us because I have no job. Outrageous! Back to square one! This is very discouraging and demoralizing. On the up-side, Gabe called and spoke about some possible part-time work at BayNet (his company). This is great - even if it doesn't pay a lot of money, it is a foot in the door!
Wednesday, September 11, 1996
The apartment hunting continued. I called a lot of apartment buildings - again, no luck. So we decided to take an apartment we didn't like, and which was very expensive. We applied for the apartment, but because we were unhappy with it, we carried on looking. With some luck we spotted a "apartment for rent" sign on El Camino Real. They had one place in Hillsdale. We went to have a look immediately and liked the place a lot. Fred, the apartment manager, was sympathetic with our situation, and convinced the owner to let us have it. At last!! The only problem is that we can only get it at the end of September / beginning of October. We'll have to go into a cheaper motel until we can move into our apartment.
Thursday, September 12, 1996
We've been here for one week now, and things have gone well for us. We spent this morning looking for a cheaper motel to stay at. The Residence Inn is very nice, but is very expensive ($125/day). We found another place for $56 per day. We'll stay there for the next 10 days, or until we can move into our apartment. Gabe called again, this time offering me a part-time HTML programming job paying $12 an hour, ±15 hours per week. I'm going to take it because it gives me some experience to put on my résumé. It may just open up doors to bigger and better things.
... and here I stopped recording our days...
I didn't take Gabe's job because Jeff, the guy we met at McDonalds, helped me get a PC Support job with the company he was working for. This got me into the computer industry, and I worked for National TechTeam for 7 months.
Then I got my big break into programming - the Systems manager at US Fleet Leasing in San Mateo liked the work I was doing in PC Support, and was willing to give me a job as a MS Access programmer even though I didn't have any professional programming experience. I stayed with US Fleet Leasing until we relocated to Austin, Texas.
In February 1997 we put Johnny into Foster City Preschool. He learnt English very quickly, and was potty-trained 3 months later. Soon he had an American accent.
In January 1998, Esmé started working for Continental Airlines. In May 1998 we decided that the San Francisco Bay Area was too expensive to live in, and in June we flew to Austin, Texas to see if we'd like to live there. We liked it, and in October 1998 we relocated to Austin. Also, in June 1998 I started a part-time programming business which has flourished.
The beginning was rough, but now we're living happily in the US. It all worked out well for us...